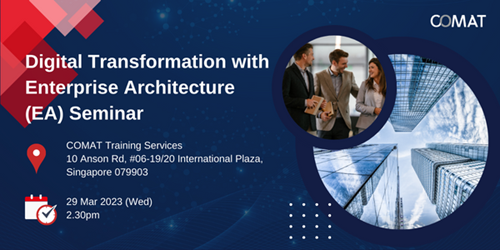 Seminar Overview
Digital transformation needs to be successful in order to create new opportunities for growth, performance and competitive advantages for the business. The fundamental structure of an organisation's business, information systems and technology for delivering a business-driven approach will change the way we manage the digital business.
The EA team can help to establish new rules and processes around technology usage to ensure consistency across business units and functions. As such, this will assist the C-level executives and other senior innovation leaders in the organisation to foster a clear further development and focus on new business approaches. It will also avoid some of the potential pitfalls and enable an organisation to compete more effectively through EA.

Learning Points
Latest tactics and best practices to help IT leaders and business stakeholders formulate digital strategies
Overcome new challenges for the Digital Business Transformation.
Methodology - How to implementation a digital business
Competency requirement for the Digital Transformation process
Case studies on enterprises have adopted a successful transition toward digital maturity.
---
Terms & Conditions
Seats are limited and on a first come, first served basis.
A notice of cancellation must be given at least 3 working days before the commencement of the seminar.
ST Engineering e-Services Pte Ltd reserves the right to substitute speaker, cancel or change the content, venue & timing of the seminar for any reasons beyond its control.
By signing up for this seminar, you have granted ST Engineering e-Services Pte Ltd the permission to use your photos taken during the seminar for all marketing purposes.
For cancellation, kindly email to esv_comat_enquiry@stengg.com
*By submitting your contact details, you have given your consent to ST Engineering e-Services Pte Ltd to:
(i) contact you regarding your registration
(ii) store and process your data for any marketing purposes